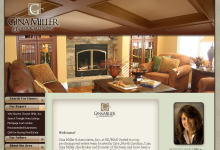 Site: Gina Miller Realtor
Industry:  Local Real Estate Agent
Description:  Gina utilizes the website to provide potential clients with information about Gina, her team, her listings and information about the area in general (ie. utilities, museums, schools, medical facilities and more).
CMS: The site has a custom Content Management System to allow Gina and her team to update certain pages, and more importantly keep her listings up-to-date.
Graphics and front-end code (HTML / CSS) for this site were implemented by a graphic designer / front-end programmer, while all back-end CMS work and the front-end PHP / MySQL tie-in were done by me.
Visit The Website:  Click Here