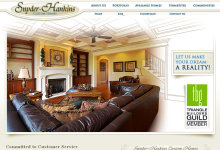 Site: Snyder-Hankins Custom Homes
Industry:  Home Builders / Developers
Description:  Snyder-Hankins Custom Homes is a high-end developer in the area.  The website provides information about Snyder-Hankins, along with their portfolio of Communities, Homes and Homesites.
CMS: The site has a custom Content Management System to allow the developers to update certain pages, and more importantly keep their available communities, homes and homesites up-to-date.
Graphics and front-end code (HTML / CSS) for this site were implemented by a graphic designer / front-end programmer, while all back-end CMS work and the front-end PHP / MySQL tie-in were done by me.
Visit The Website:  Click Here