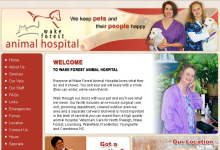 Site: Wake Forest Animal Hospital
Industry: Full-Service Animal Hospital
Description:  A complete redesign of their website. Many of the pages are database-driven, and a Flash Photo Gallery has been implemented. View a screenshot of their old homepage.
CMS: The site has a custom Content Management System to allow the team at WFAH to update certain pages on their website.
Graphics for this site were created by a graphic designer, while all front-end coding (HTML / PHP / CSS / JS) and back-end CMS (PHP / MySQL) was done by me.
Visit The Website:  Click Here